Spotify Album, Artist, Playlist Promotion
We work with more than 1,700 Spotify Playlists to promote Spotify track. We offer best Spotify promotion service for individuals and record labels at a reasonable price. To grow Spotify followers we also do Spotify artist promo.
1.) SUBMISSION
Choose from or cost-effective music promotion packages that match your requirement of the promotion campaign and submit your music track to Music Fungi.
2.) LISTENING
An expert from our promotional team will listen to your track carefully and chose the playlist for your music that fits best.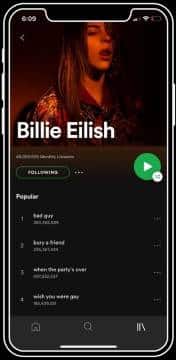 3.) PLACEMENT in PLAYLIST
We will place your music track in our popular playlists within 24 hours of purchasing. These playlist names will mention in the report which will send after completion.
4.) RESULTS
It will take 2-5 days to start getting plays. Plays will come slowly and safely. You will see excellent and promising results within few weeks.
SPOTIFY PREMIUM PROMOTION
Benefits of Spotify Premium Promo
We pursue Spotify premium users for premium plays. When premium users play your songs, track, or albums you to get more royalties per Spotify-play and also get more followers and streams. We recommend going for Spotify premium 3 months promo for getting a good result.
Promote Your Spotify Playlist and Track
Spotify has a few parameters that are applied to measure the achievement of the artist. These metrics are plays, listeners, and followers. Spotify playlist also plays a significant role. Spotify playlist promotion is also essential, but you must start with plays. It isn't trustworthy for a song to highlight on a playlist without having a good number of plays. After getting enough play, pay for Spotify playlist placement and get the best Spotify promotion services.
Grow Spotify Followers, Increase Number of Play
If your Spotify plays are not increasing that means your popularity isn't increasing and this is not a good sign of a successful artist. You have to grow Spotify followers. The number of fan increasing will stop in a stage but it can't be in at a few hundred listeners and fans. You can wait longer and do your good work to get sufficient plays on Spotify. Alternatively, you can pay for Spotify promotion and get plays.
Get Targeted Spotify Plays and Followers
Just getting plays on Spotify is not sufficient. You should focus on gaining more plays on Spotify from the targeted audience from your music genres. If you buy plays on Spotify from random users, these may not impact enough. You need to target those users who love the genre you specialize in. You need to precise the target audience who would like to listen to your songs and only then will the music spread.
How we do Spotify artist promotion?
We share the artist profile among the various social network and community sites full of music lovers people. We also use our networks and partner list (Music bloggers, promoters, playlists, and others) to promote your tracks, songs, albums, and podcasts on Spotify.
Why you should buy Spotify plays?
You should pay for Spotify plays and followers of your album. Because out of over 50 million tracks, 10% have never been accessed or played even once. If you are aiming to succeed in a faster way, you have to buy our paid promotion services. Buy Spotify plays and monthly listeners today and kickstart your career now.
Why should you pay for promotion to grow Spotify followers?
For any Artist, it is vital to have a strong number of followers. That will help to get even more followers. When you will buy Spotify followers through our premium services, one of our experts will set up an advanced marketing campaign to encourage real and quality followers.
Is it real and organic promotion?
Yes, we do 100% natural Spotify promotion. We have a team of expert professionals who have many years of experience in supporting thousands of artists to promote their music, songs, and podcasts. They are well-known to the Terms and conditions of Spotify. We naturally place your track on popular Spotify playlists with millions of plays.
How we promote your Spotify playlist?
We have over 1,700 playlists that we can tap into and promote your track. The playlists have thousands of followers. Using our network, direct communication, and industry connections. We can promote your single music or album very efficiently and conveniently.
Types of musical genres we promote?
We promote all kinds of music including Rap, Hip-Hop, Electronic, and Salsa. To grow their fan followers, we set up campaigns for each client according to their musical genre, audience, and requirements as per the current fan base.